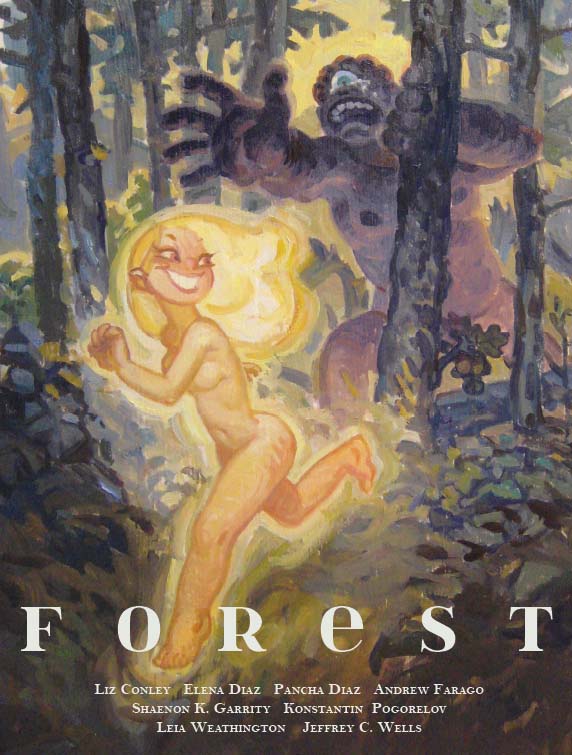 For Immediate Release: October 14, 2010
Contact: Andrew Farago, andrewfarago@hotmail.com
All members available for interviews; images available upon request.

San Francisco, CA: The Couscous Collective is pleased to announce the publication of its first anthology, FOREST, making its debut at the 2010 Alternative Press Expo. This 48-page collection of all-new material showcases the talents of seven of the founding members of the Bay Area-centered artist collective.
This magazine-sized publication features a full-color cover by rising star Konstantin Pogorelov and a brand-new comic featuring the cast of Skin Horse, the popular webcomic created by Shaenon K. Garrity and Jeffrey C. Wells. Wells will be making his first-ever appearance at this year's Alternative Press Expo.
Contributors will sign copies of the new anthology at APE tables #237 and #238. Individual works from each artist will also be available for purchase.
The 2010 Alternative Press Expo also marks the debut of the second collected volume of Skin Horse, by Shaenon K. Garrity and Jeffrey C. Wells. The initial print run was financed through a fundraising drive on Kickstarter.com, a funding platform for artists, designers, filmmakers, musicians, journalists, inventors and explorers. The entire project was funded within 18 hours of its initial posting, and ultimately raised 200% of the capital needed for publication.
Couscous Collective members Andrew Farago and Shaenon K. Garrity conduct a workshop on writing humor comics on Saturday at 3:00pm at the Alternative Press Expo. This seminar, Write Funny!, is free with paid admission to APE.
The Couscous Collective was founded in 2008 as a collective of Bay Area visual artists and storytellers whose works "satisfy a variety of appetites." Members include printmaker Liz Conley, cartoonist Elena Diaz, designer Pancha Diaz, museum curator Andrew Farago, cartoonist Shaenon K. Garrity, illustrator Konstantin Pogorelov, manga authority Jason Thompson and cartoonist Leia Weathington.