www.williambazillion.com
Oh, now, this is just getting silly.
Also, I know I said last week's installment of the Overlooked Manga Festival would be the last one for a while, but then I got this last-minute guest OMF. So here we go...
One more Overlooked Manga Festival!
A long, long time ago, I promised Abby L., creator of
The Green Avenger
, that I would cover this manga in the Overlooked Manga Festival. And then I kind of didn't. Abby has thus been forced to write her own guest OMF. Thank you, Abby! And I apologize for slacking off in my manga duties. Okay, here's Abby's review...
I stumbled upon
Firefighter! Daigo of Fire Company M
(then known to me as
Megumi No Daigo
) back in the day, actually, when I was just starting to be a fan of anime. It was one of the reviews in
Animerica
's Japan-only reviews column in the very first issue of Animerica I ever read. The review wasn't glowing, except on, I believe, Urian Brown's part. (This could be me having a bad memory, though.) Still, the idea was novel enough to me that it stuck, and when I saw the title online I read through it and loved it.
It suddenly disappeared off my list and I was disappointed until I realized it had been licensed. It was, in fact, the first manga I bought that I'd stumbled upon on my own, without any of my other friends liking it first or in tandem with me. It was novel until I went on and realized that I was the only one I'd ever heard of who liked this.
But enough personal history.
Firefighter!
, drawn by Masahito Soda, is at its heart very similar to a sports manga like
Prince of Tennis
or
Eyeshield 21
. (This isn't surprising, considering Soda's other popular works are actually sports manga.) The protagonist, Daigo Asahina, is a recent graduate of a firefighting academy who seems to be a little bit TOO gung-ho. He's assigned to the slacker Company M, where everyone is laid back and seemingly lackadaisical.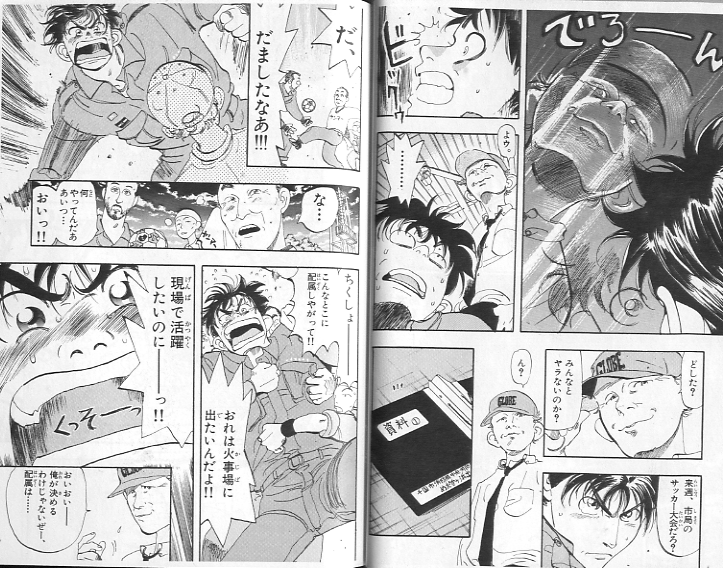 Daigo gets irrationally angry about this, and forgive me for not having my English volumes of this available to scan, but he goes off on a comedic tangent on his very first day (actually the day before, he decided to report a day early) lambasting the company for being lazy, furious that he was assigned to a company that rarely sees fires.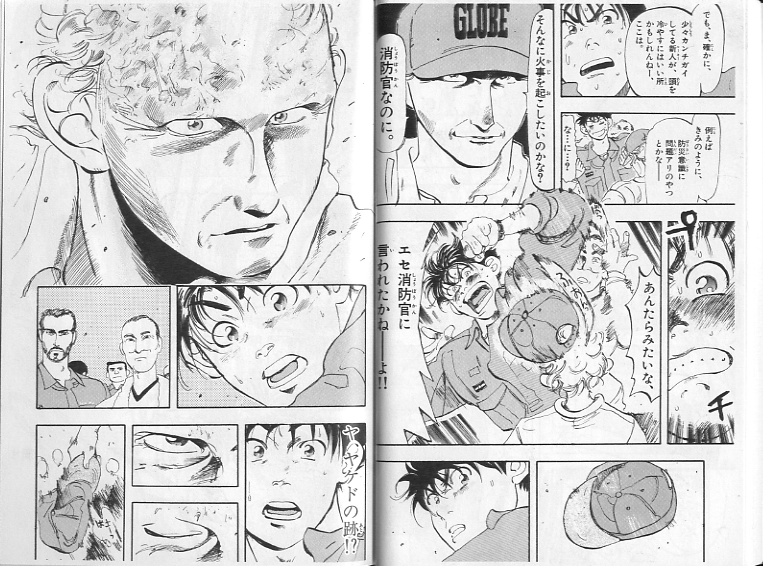 Soda quickly switches gears from sketchy caricatures to a solid and somewhat disturbing look at what could happen to a firefighter as Daigo knocks off the Fire Chief's ever-present hat and sees that his hair has been almost completely scarred off. One of the big strengths of this series is the art, which only gets better from here.
From there,
Firefighter!
is one major event after another, as Daigo is literally thrown into a trial by fire, forced to overcome his initial worries about his dangerous profession and spiraling him up to ever more heavenly heights of heroics.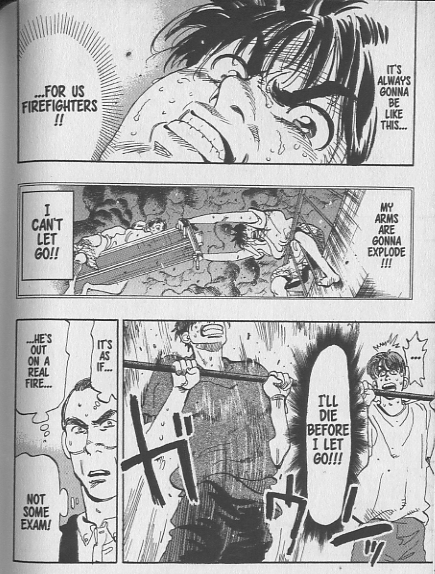 Where Daigo both differs from and draws from the standard sports manga protocol is that the more fires Daigo is involved in, the more uncanny his rescues get. He fails in trials, but the moment a life is at stake, he changes immensely, becoming focused and able, willing to sacrifice anything for the victims of fire without the slightest thought for his own safety, like in this excerpt from volume 6.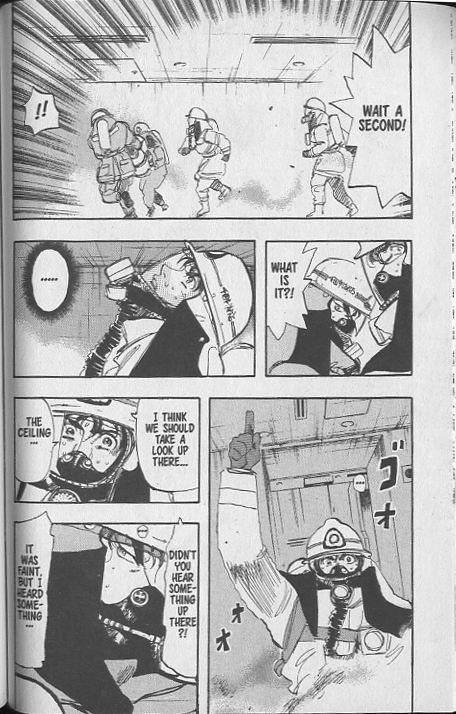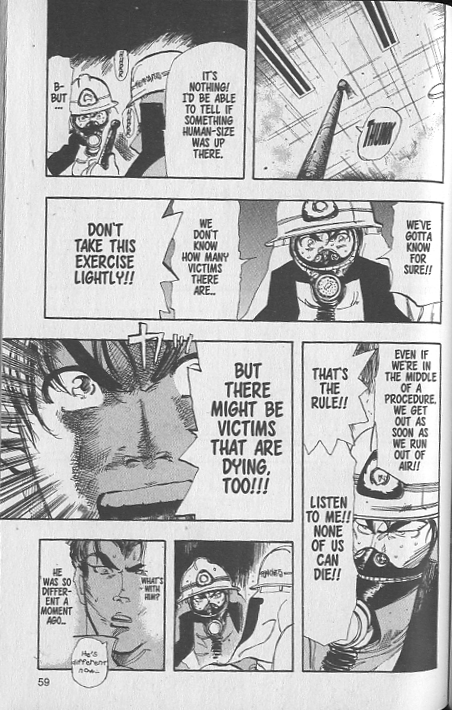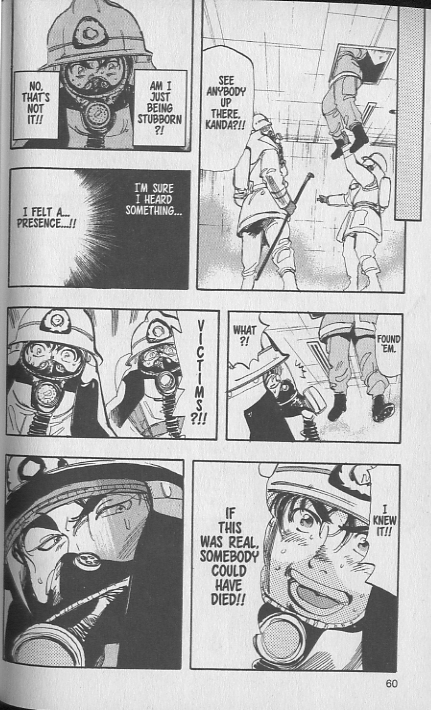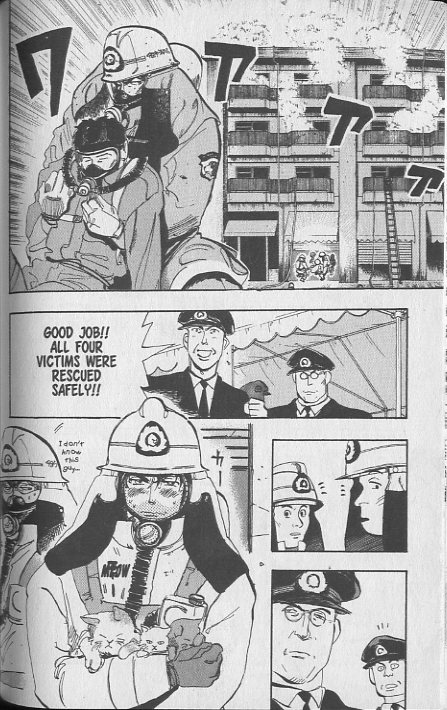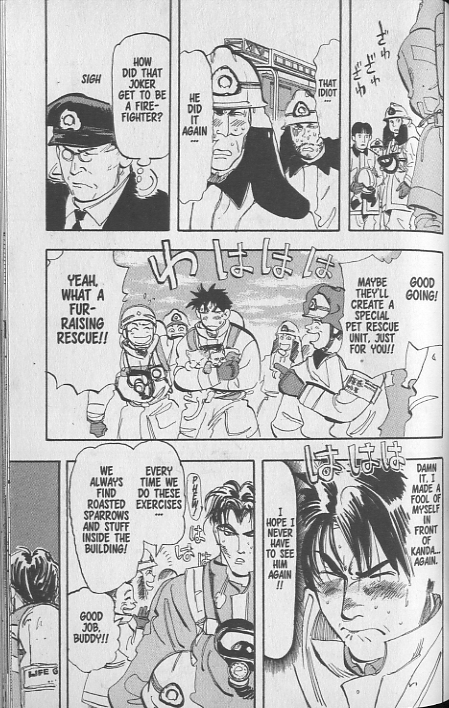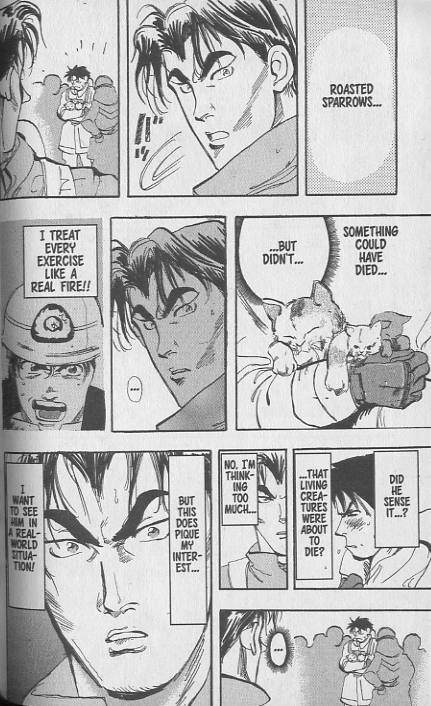 Though Soda stops just short of outing Daigo as an ESPer, (or at least he has only a few volumes from the end of the story,) it's pretty clear that his power is somehow definably uncanny during the second to last volume, when he's able to understand and make himself understood to someone who speaks no Japanese at all.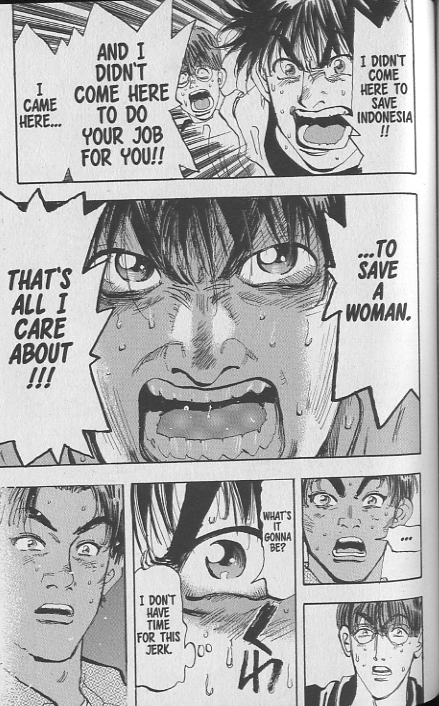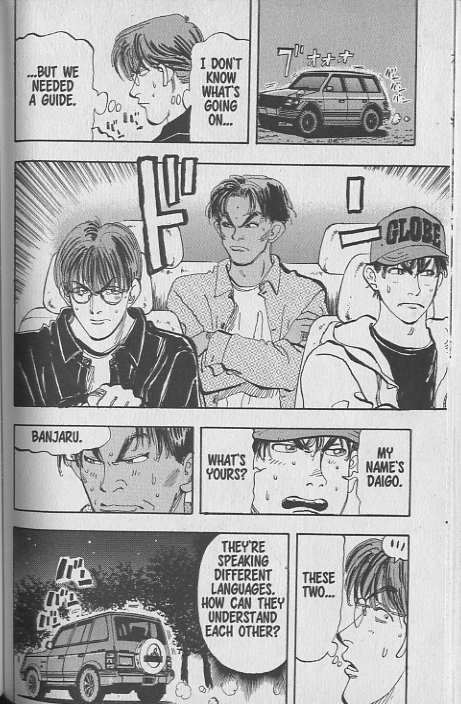 Firefighter!
is overlooked in many ways. It flies under the radar of most manga fans, and never really got exposure. I can imagine it being very popular among fans of mainstream American comics as well, because of the shared themes it has with superhero comics. Alas, the last volume of
Daigo
has come out with little fanfare, and I expect that now that it's finished being released, it'll disappear off store shelves forever. (More so than it already has.)
Still, I'll keep close to my heart all my volumes of Firefighter!, because it gives me the kind of adrenaline high that action films do, but never goes far enough to trip up my suspension of disbelief. At least not TOO badly.
Check it out, if you get the chance, folks.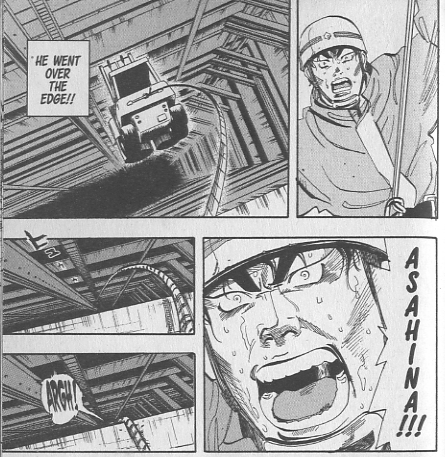 Thanks, Abby! And everyone be sure to check out
The Green Avenger
.
Okay, this really is it. Time for me to take a little manga break.
Overlooked Manga Festivities:
Basara
Please Save My Earth
From Eroica with Love
Even a Monkey Can Draw Manga
Dr. Slump
Your and My Secret
Phoenix
Kekkaishi
Wild Act
Knights of the Zodiac
The Drifting Classroom
OMF Special Event: Manga Editors Recommend Manga, Part 1
OMF Special Event: Manga Editors Recommend Manga, Part 2
OMF Special Event: Manga Editors Recommend Manga, Part 3
OMF Special Event: Great Moments in Manga Baking
Shout Out Loud
Monster
Swan
Warren Buffett: An Illustrated Biography of the World's Most Successful Investor
Sexy Voice and Robo
OMF Special Event: 2006 Overlooked Manga Update
The Four Immigrants Manga
Gerard and Jacques
Ode To Kirihito
Bringing Home the Sushi
Banana Fish
Skip Beat
OMF Special Event: The Greatest Manga Magazine in American History
Cyborg 009
Anywhere But Here
To Terra
Town of Evening Calm, Country of Cherry Blossoms
Doing Time
The Walking Man
Sugar Sugar Rune
Parasyte
Japan as Viewed by 17 Creators
Mariko Parade
Golgo 13
Ricca 'tte Kanji!?
Pure Trance
OMF Special Event: My Legacy
OMF Special Event: An All-Star Tribute to Carl Gustav Horn
Guest OMF by Jason Thompson: 888
JoJo's Bizarre Adventure
Tekkon Kinkreet
Yakitate! Japan
Flower of Life
Domu
OMF Special Event: Top Ten Lines from the Excel Saga manga
Nana
What's Michael?
OMF Special Event: Jason Thompson Presents the Top Ten Best Worst Manga, Part One
OMF Special Event: Jason Thompson Presents the Top Ten Best Worst Manga, Part Two
Aria
Comics Underground Japan
Yotsuba&!
Slam Dunk
Moon Child
Chikyu Misaki
Bambi and Her Pink Gun
Ten Awesome Long-Out-of-Print Viz Manga, Part One
Ten Awesome Long-Out-of-Print Viz Manga, Part Two
The Kurosagi Corpse Delivery Service
OMF Special Event: Reader OMFs, Part One
OMF Special Event: Reader OMFs, Part Two